We are excited and proud to announce the launch of a three bedroom, fully detached villa in Zurrieq. This villa will be made available to our customers for short and long term letting.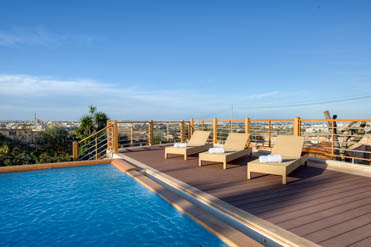 A lot of resources and meticulous attention to detail was employed from concept planning to the drawing board, construction and design finishing. The aim was to create a luxury end property with five star finishing which at the same time is eco friendly and maintains harmony with its surroundings while taking advantage of the beauty and serenity of the area.

The interiors are designer finished with a wise combination of old and new, local inspiration with international province style. The furniture is a showcase of the prowess of Baldacchino Woodworks Ltd., in both bespoken furniture manufacture and also restoration and reclaiming of antique furniture. The bathrooms, including plumbing, tiling and sanitary ware showcase imports by the group. Light fittings, all fire-retardant soft furnishings and outside furniture have also been imported by the group. The property is fully insulated with thermal spray foam solutions, with double insulated apertures (also by Baldacchino Group), making the property fully energy efficient.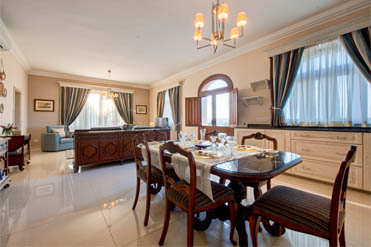 Villa Highlights

Situated in Zurrieq, a village situated in the southern coast of Malta, the unique properties of this property make it very rare to come by. Located just ten minutes away from the Malta International Airport, this villa is immersed in typical Maltese countryside with breathtaking sea and countryside views that overlook the Wied Babu Valley underneath, the Hagar Qim temples, extended up to the silent city of Mdina, Rabat, Mosta Dome, Valletta and St. Julians.

Comfort was not spared in its elegant and high end furnishings, and the villa has been structurally installed with the latest energy efficient opportunities available on the market. On entering the property through a private drive-in, you will find yourself in the midst of the property, with its pool its' and surrounding garden. Upon entering the villa, you are welcomed in an open plan, fully equipped kitchen, dining and lounge area, and three bedrooms. All bedrooms have their own en-suite bathrooms and the property is fully air conditioned.